IN THE PRESS
---
Public House
Article Published in Washington CityPaper - May 31, 2007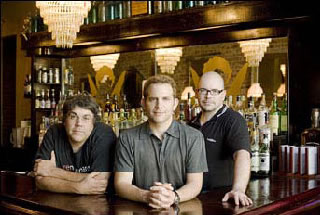 Most folks driving along Georgia Avenue NW see abandoned structures sealed with plywood or one barber shop after another hiding behind safety bars, maybe even a few fellas loitering around the House strip joint, distributing postcards trumpeting the fleshy, bum-cake joys of Cherokee D'Ass. Not Robb LaKritz.
Years ago, back when the former Shaw resident used to drive his motorcycle to Curtis Chevrolet for repairs, LaKritz could see his past before him—maybe even his future.
"I was like, this is a boulevard. I mean, this is a beautiful boulevard. It reminded me of Woodward Avenue, where I grew up in Detroit, where you've got wide sidewalks," recalls LaKritz, who used to work on overseas economic development for the Treasury Department. "You've got an interesting topography. The hills go up and down. They kind of undulate, and you get beautiful soaring views at places on Georgia Avenue."
The vision stuck. In 2003, LaKritz purchased an 1896 farmhouse on 8th Street NW and began spending time with his new neighbors. They all seemed to agree on one thing: The 'hood needed a real sit-down restaurant, not another shabby carryout offering that great triumvirate of chicken, subs, and Chinese-American stir-fries. By January 2006, they got what they wanted: Temperance Hall, which LaKritz and business partner Joshua Adler, another Treasury refugee, opened with the hope of recalling an idealized Jazz Age milieu, one that likely never existed along Georgia Avenue.
Temperance Hall may be the strangest, coolest venture you'll ever see. LaKritz and Adler seem driven less by a passion for food and restaurants than by a passion for revitalizing a blighted neighborhood, which they hope to accomplish without gentrifying it. LaKritz calls their approach "responsible revitalization" because it tries to serve the needs of Petworth, not make it over.
The LaKritz-Adler team's inexperience in the hospitality industry led them to turn to Joe Englert for guidance on how to transform the former barber shopncumncrack house into Temperance Hall. Englert, the man behind the "Atlas District," owns a 50-percent share in the building and restaurant, and his fingerprints are all over the place; Temperance's moody, sumptuous, Roaring '20s ambience feels distinctively Englertian, as thematically airtight as some of the guy's H Street NE drinking holes. But LaKritz says the neighborhood has had as much a hand in shaping Temperance as Englert and the former Treasury boys.
Specifically, LaKritz recalls a community meeting at the home of Buddy Moore, a veteran neighborhood activist. More than 30 people attended. "They were asking us, 'What do you guys envision for the menu?' And I said to them, 'What do you guys envision for the menu, because you're going to be the customers?'?" They had suggestions, LaKritz says, from high-quality burgers to grilled-cheese sandwiches to Sunday brunch.
Many of the suggestions made the cut, which perhaps is not so surprising. The menu follows the basic grill-it-or-fry-it rule of taverns, although LaKritz notes that Temperance plans to add an oven soon to expand its options. But even within the current limited framework of pub grub, Temperance delivers quality chow at a price that seems eminently affordable to anyone, whether denizens of the 'hood or not. The highest-priced entree, a well-seasoned and grilled hanger steak, all char and savor, tops out at $14.
The chicken Milanese, served on a crunchy, pillowy bun from Lyon Bakery, is about as exotic as a cafe latte these days, but Temperance prepares the sandwich with utmost care, layering avocado, Jack cheese, lettuce, and roasted-garlic mayo on top of a tenderly fried piece of breast meat that has just the right crunch. The all-American sloppy Joes—refashioned on the appetizer menu as "Junior Joes" to capitalize on the mini-burger craze—go easy on the Bunyon-esque sweet-and-sour flavors that typically induce my gag reflex. The kitchen also impressed me with its half-pound burger studded with onions, which was no small feat, given that my friend had ordered it well-done.
Temperance seems to grasp that small details are important, even with finger food. The spicy bar nuts, dubbed Prohibition Peanuts, are tempered with generous sprinkles of cinnamon and sugar. The addictive hummus, served with crisped strips of Barbary bread, is given extra depth and color with roasted red peppers, and the French fries come loaded with thick crystals of flavor-enhancing salt. Only the grilled cheese proves disappointing, a cheddar-and-Jack combo on satisfyingly crunchy semolina bread that's drenched with nasal-clearing mustard.
Arguably the highlight here comes on the drinks menu. It's a Sazerac, the old New Orleans cocktail made with rye whiskey, Peychaud's bitters, and just a hint of Herbsaint, that absinthe stand-in. The licorice-flavored cocktail, with its excellent whiskey burn, is history in a martini glass, a throwback to when rye spirits ruled the northeastern U.S. in the days before Prohibition. The Sazerac, as well as Temperance's line of rye whiskeys, recall the days when people drank first and asked questions later. Way later.
No matter what you order at Temperance, though, it'll likely be served by someone from the neighborhood. It's part of the Temperance ethos: Work where you live. Says LaKritz: "Almost exclusively, all of our staff lives in Petworth." Such an admirable philosophy has its drawbacks, particularly if address counts for more than experience: Service can range from inattentive to needy. One evening after waiting 30 minutes for our food, I checked with the manager; he apologized repeatedly, which seemed to be his preferred method for handling crises. When I returned to the table empty-handed, I told my friend I did get three more apologies. "I thought I heard four," he said.
Of course, the self-consciousness with which Temperance has established itself as a neighborhood icon—a sit-down restaurant designed for and staffed by Petworth residents—makes the place a sizeable target. I decided to walk the streets near Temperance and take the temperature of the tavern. I found a number of people who echoed Francis Saleh's comment: "It's pretty nice," he says, noshing on a tuna sandwich outside Lion's Liquor and Spirits, just up the street. "And when I say it's nice, I mean it's nice all the way around."
But across Georgia Avenue, a few neighbors who have gathered on Otis Place NW in the late-afternoon heat hold a different opinion. Sharon Askew, who sits in her idling Chevy Prizm pulled to the curb, begrudges Temperance management for blowing her off about a cooking job. Crepson Kellyman, straddling his bike, says flat-out that the place needs a good cook like Askew, while Al Smith, squatting on a concrete block, won't visit Temperance ever again. "We don't really feel welcome when we go to it," Smith says. "My wife has a low tolerance for that."
Their comments perhaps reflect the awkward position of a neighborhood tavern that wants to be more friend than food trough: People expect too much.
Temperance Hall, 3634 Georgia Ave. NW, (202) 722-7669.
---