IN THE PRESS
---
Against all odds, condo project nears sell-out
Article Published in Washington Business Journal - May 1, 2015
by Melissa Castro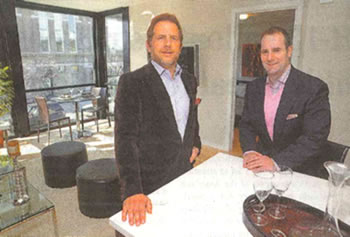 Despite reams of data saying it shouldn't be so, a boutique condo project about to deliver at 12th and U Streets NW is neither bankrupting its developers nor causing panic at its lender.
D.C.-based LaKritz Adler's Moderno is, however, causing a stir, with 12 out of 19 units set to close this month. LaKritz Adler has managed to navigate the turbulent housing market - and the global economic crisis it sparked - with the benefit of peripheral vision.
Seven years ago, Robb LaKrítz and Josh Adler met while both were Working for the Treasury Department. Adler wrote Sec. Paul O'Neill's speeches; LaKritz worked in international economics.
By day, LaKritz advised Third World countries on how to revamp their economies. At night, he returned to his own Shaw neighborhood, where streets were strewn with trash and needles, and grand Victorian architecture had declined into decrepitude.
In 2002, the duo jumped into real estate development, helping spark renaissances in Petworth, Shaw and Columbia Heights.
To an outsider, Moderno's development history seems to be a series of mistimed steps. The developers bought the land - a parking lot - in July 2005 for $3.4 million, just as the condo market began its long and precipitous decline. That year, at the height of the condo boom, 13,000 condos sold in the Washington area. Last year, just 1,857 units sold, according to McWilliams Ballard, a condo sales company that is handling Moderno's sales.
Moderno's contractor, Ellis Denning Construction, broke ground in June 2007. By early July, the commercial mortgage-backed securities market - and its gushing flow of development capital - was gone. With it went at least 84 local condo projects, many of them converted to rental buildings or canceled outright, according to data from Alexandria's Delta Associates.
They were hardly naive. As global economists, they knew the cheap debt from Asia wasn't sustainable. And they knew the market had peaked when it took them months to replace canceled contracts on their 2005 Madeira condo project, which originally had multiple offers on every unit. "The last buyer had bought," Adler said.
They considered building office space, but ruled it out because zoning requirements called for expensive underground parking.
Despite the flagging condo market, the two pressed ahead with a condo plan in mid 2007. "We felt this was absolutely the best possible site left on U Street," LaKritz said.
By creating a niche project with multiple price points and keeping overhead and debt low, the pair managed to evade trouble.
"Because it was our own money, we were probably a little more judicious," Adler said. "It's not like We could back a truck up to a money garage and fill it up."
Looking at Moderno, though, you would never know it. LaKritz and Adler took four overseas trips to get design ideas and inspiration. The lobby sports checkered oak-and-mahogany paneling, the kitchens have dramatic Italian cabinetry and fixtures, and some of the bathrooms have steam rooms and separate "water closets" - yes, that's the room with the loo.
The 622- to 1,452-square-foot units range in price from $365,000 to $1.2 million. Four out of the most expensive penthouse and townhouse units are already under contract.
While nearly 65 percent of contracted condo buyers having canceled contracts throughout the region in 2008, not one has walked away from Moderno. Thanks to binding letters of intent the early buyers signed in January - and to below-market financing available to Moderno buyers - the developers expect their buyers to make it to closing.
As they close out Moderno, LaKritz and Adler are breathing a hesitant sigh of relief. "We expected a downturn, but no one could have predicted just how drastic the slow down has been," LaKritz said.
---