IN THE PRESS
---
In Silver Spring, "mixed-use" means housing, shops & church
Article Published in Greater Greater Washington - February 26, 2013 [view]
by Dan Reed February 26, 2013 10:19 am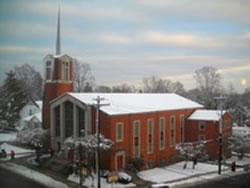 Across the region, cash-strapped churches are taking advantage of their property's development potential. The latest congregation is the First Baptist Church of Silver Spring, whose plans to replace their aging sanctuary with apartments, shops and a new church will go before the Montgomery County Planning Board on Thursday.
First Baptist Church is at the corner of Fenton Street and Wayne Avenue in downtown Silver Spring, four blocks from the Silver Spring Metro and across the street from a future Purple Line stop. Built between 1927 and 1956, the church's buildings are showing their age and no longer fit the congregation's needs. It could cost $5 million to bring them up to code.
That's why the church has partnered with developers Grosvenor Americas and LaKritz Adler, who propose replacing the church (PDF) with a 6-story, 259-unit apartment building with 18,650 square feet of ground-floor retail space and an underground parking garage.
A new, 29,000-square-foot church, containing a sanctuary, classrooms and a day care center, would be built next door. Between them would be a mid-block pedestrian passage with landscaping and public art.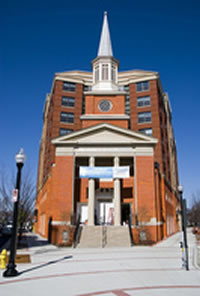 Redevelopment causes debate between congregations, preservationists
Whether due to declining attendance or growing ambitions, other area churches are doing the same thing, notably the Third Church of Christ, Scientist in downtown DC, which partnered with a developer to raze their architecturally significant sanctuary and replace it with a new church and office building.
In Arlington, the Church at Clarendon sold the air rights above their church so an apartment building could be built on top. Meanwhile, the First Baptist Church of Wheaton sold their property to an apartment developer to relocate to Olney.
These projects often pit congregations against preservationists, who argue that the churches are historically or architecturally significant and should be saved. The Silver Spring Historical Society fought to have the First Baptist Church designated as a historic landmark; in response, the church hired a historian to argue that the building was nothing special.
It's a "dime-a-dozen church," Pastor Duncan McIntosh told the Gazette in 2011.
The Montgomery County Planning Board chose not to designate the building, opening it up for redevelopment. However, stained glass windows from the old church may be used in the new one, according to Jerry McCoy, president of the historical society.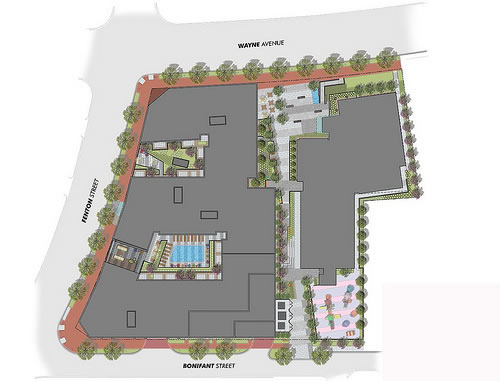 Proposed design provides transition between downtown and neighborhoods
Whether or not the First Baptist Church of Silver Spring is historically significant, it plays an important role in the community. Ironically, tearing it down will allow the church to remain in the community by giving it much-needed income and a new sanctuary that better fits their needs. Not only that, but the proposed design will encourage the further revitalization of downtown Silver Spring while creating a nice transition to surrounding neighborhoods.
The apartment building, designed by SK+I Architects of Bethesda, will have ground-floor retail along Fenton Street between Wayne and Bonifant Street, filling a large gap between the core of downtown Silver Spring and Fenton Village. Along Wayne and Fenton, the building will be 6 stories tall and have a modern façade with metal and concrete panels and large expanses of glass.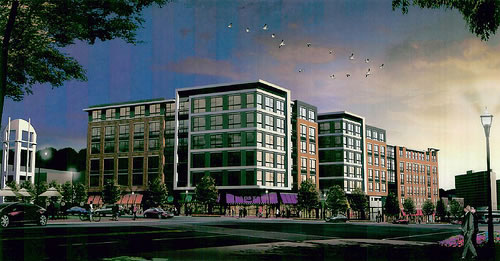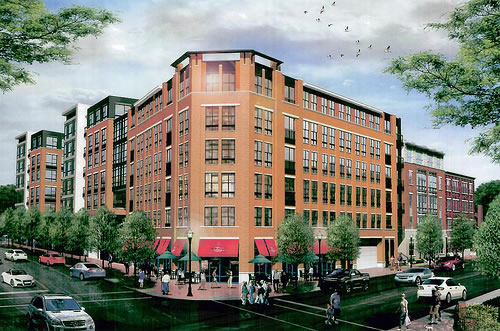 In 2011, neighbors agreed to allow the building additional height along Fenton; in exchange, the developers have reduced its height to 4 stories along Bonifant, where it's adjacent to single-family houses. The exterior on that street is more traditional, with divided-light windows and brick cladding; instead of shops, there are ground-floor apartments with "real doors."
In response to concerns about through traffic, a chicane will be placed on Bonifant Street. It'll slow drivers down, but still allow them to pass through, making it a much better alternative than the "fake cul-de-sacs" placed in many areas around downtown Silver Spring that just dump more traffic on the main streets.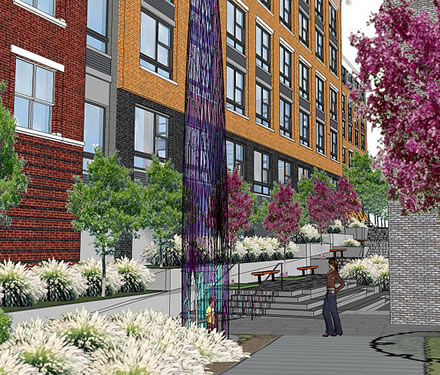 However, the most interesting part of the project might be its public open spaces, which take up two-fifths of an acre. It's here that apartment residents, shoppers and diners, and church parishioners will cross paths and mingle, creating an interesting mix.
The church's entrance on Wayne Avenue will face a small plaza, which also has tables and chairs for outdoor dining. On Bonifant Street is a playground for the church's day care center, which will be open to the public at set times. Connecting them is a mid-block passage between the apartments and the church, with benches and bioretention planters that hold and filter rainwater.
There will also be a 30-foot-tall public art piece dubbed "Wingspire." Frederick-based artist William Cochran designed a sculpture made of dichroic glass, which is embedded with thin layers of metal and can display a variety of colors. The glass will also be embedded in the passage's stone pavers, creating what Cochran calls a "river of light."
After years of debate, a design has emerged for the new First Baptist Church of Silver Spring that might make everyone happy. Not only does it allow a nearly century-old congregation to remain in place, but it allows downtown Silver Spring to continue growing while respecting adjacent neighborhoods. A church is often the heart of a community, but in a project like this, it's literal.
---